THE APOSTLE
The Apostleship
Mini Bio: Apostle Jean Morris glorifies God for over 51 years of service in the Master's kingdom. Saved at the age of 18, Apostle Morris received the calling of God upon her life. She began in ministry the same year, 1961. She served under Apostle R.L. Mitchell as Director of Education, 1972-1981, preschool – nineth grade; ministry of music as organist and choir director. Countless souls have been saved, bodies have been healed, demons cast out, through evangelistic meetings, radio and television ministry, publications, crusades, conferences, seminars, and now AJM College of the Bible (online) is the recent ministry is the direction of the Holy Spirit. Apostle Morris was a pastor under the late Apostle Johnny Washington of Tabernacle of Prayer For All People Incorporated, Jamaica, New York during 1981 – 1987. After his passing, she continued under Apostle Lawrence Bogier of Goldsboro, North Carolina until about 1990.She was ordained to the apostleship in 2000 by Apostle Eddie Wilson. Presently, Apostle Jean Morris Ministries is the banner for auxiliary ministries: His Tabernacle Media,(website, audio and visual) The Jubilee Hour, television, audio); Victory – Plus a youth outreach ministry, His Tabernacle, Chicago, Illinois, and His Tabernacle Tent Ministry Ministries have been mentored, and several churches planted. Churches have been established, and strengthened through the apostolic anointing present in her ministry. Presently, Gary, IN. is an outreach of this ministry. As a member of the Body of Christ, other ministries across the nation areministered to periodically as the Lord directs; covenant ministries are included. Apostle Jean Morris Ministries is an affiliate of Whole Truth MinistriesUnder Apostle Eddie Wilson of Earle, Arkansas. She works asSenior Advisor of National yyYouth Affairs, Executive Administrator, and is active in the evangelistic ministry of Whole Truth.All the GLORY belongs to God! Apostle Jean Morris, A.A.; B.S.; Certification in Biblical Studies(T.B.I. Jamaica , N.Y.); C.E. in Psychiatry Certificate. D.Min. Doctor of Ministry(I.C.M Seminary)
Apostle Jean Morris Ministries
Office: 7203 S. Emerald Ave.
Chicago, IL.
Apostle Morris is available for consultation.
Consultation by appointment only Write to:
apostlejm@gmail.com
A GLOBAL SCHOOL OF MINISTRY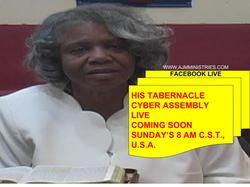 STATEMENT OF FAITH
WHAT THE Literal BIBLE SAYS AS WE UNDERSTAND, LIVE AND TEACH IT.

JESUS IS THE SON OF GOD AND LIVED ON EARTH, BORN OF A WOMAN, BY CONCEPTION OF THE HOLY GHOST; WAS CRUCIFIED OF PONTUS PILATE, AND WAS RAISED FROM THE DEAD BY THE POWER OF GOD.

THE FATHER IS A SPIRIT.

JESUS IS AN INCORRUPTIBLE MAN

THE HOLY GHOST IS THE PERSON SENT BY JESUS TO FULFILL ST JOHN 14 AND 16 TO TEACH, BRING TO THE REMEMBRANCE OF THE BELIEVER AND TO LEAD AND GUIDE THE BODY OF CHRIST INTO ALL TRUTH. ST.

ST. JOHN 4::24 SALVATION IS BY FAITH IN JESUS CHRIST WITHOUT WORKS. HOWEVER, THAT FAITH IS TO BRING A PERSON INTO A NEW LIFE WHICH INCLUDES SANCTIFICATION AND SEPARATION FROM THE SINFUL PLEASURES AND PRACTICES OF THE WORLD. EPH. 2:18;

ROM. 10:9-10 JESUS BAPTISES THE BORN AGAIN BELIEVER WHO HAS BELIEVEDTHE GOSPEL AND REPENTED OF SINS UNTO THE RIGHTEOUSNESS OF GOD;

TO BE FILLED WITH THE HOLY GHOST WITH THE EVIDENCE OF SPEAKING WITH OTHER TONGUES AS THE SPIRIT GIVES UTTERANCE.ACTS 2:4

WATER BAPTISM IS AN OUTWARD SHOW OF HAVING BEEN CRUCIFIED WITH CHRIST AND RISED FROM THE DEAD ANS THE BELIVEER WALKS IN THE NEWNESS OF LIFE. WATER BAPTISM IS TO BE DONE ACCORDING TO MATTHEW 28:19; AND ACTS 2:38

THE BODY OF CHRIST IS TO BE LED BY THOSE LISTED IN EPHESIANS4:11-...AND EPHESIANS 2:20.

ALL BELIEVERS HAVE ONE OR MORE OF THE GIFTS LISTED IN I COR. 12& 14.

THE MINISTRY OF JESUS CHRIST IS CONTINUED IN THESE. DIVINE HEALING IS THROUGH FAITH IN THE FINISHED WORK OF JESUS CHRIST AS HAVING PAID FOR THE HEALING OF THE PHYSCIAL BODY,ETC. MRK 16:18; I PETER 2:24; JAMES 5:14-15

JESUS WILL RETURN IN 2 PHASES: THE RAPTURE(CATCHING AWAY OF THE CHURCH; & HIS COMING TO REIGN AS KING. I COR. 15: I THESS. 4:16-17

HELL IS A PLACE IN THE HEART OF THE EARTH WHICH WILL BE CAST INTO THE LAKE OF FIRE. REV. 19 - 20

ETERNAL JUDGEMENT IS LITERAL AND AWAITING THOSE WHO REJECT THE GOSPEL OF JESUS CHRIST AS THE DICTATES FOR THEIR LIVES.
www.ajmministries.com/weeklyradio/