Victory- Plus,Mentor/Mentees
Your Youth Opportunity and ACADEMIC HELPS
Minister Delores M. Daniel
Youth Coordinator
presents
BIBLE BOWL
Questions & Answers for young bible scholars
BIBLE QUESTIONS AND ANSWERS
1. Name the first book of the bible in the Old Testament.
Answer: Genesis
2. Name the last book of the bible in the New Testament.
Answer: Revelation
3. There are 29 books in the Old Testament. True or False.
Answer: False. There are 39 books in the Old Testament
4. There are 21 books in the New Testament. True or False.
Answer: False. There are 27 books in the New Testament
5. Who was Joseph's Father?
A. Isaac
B. Adam
C. Jacob
D. Moses
Answer: Jacob. Genesis 37:1
6. How many divisions are there in the book Psalms?
A. 130
B. 150
C. 110
D. 120
Answer: 150
7. It rained for 40 days when Noah was in the ark. True or False
Answer: True. Genesis 7:17
8. Name one of the four gospels.
Answer: St. Matthew, St. Mark, St. Luke, or St. John
9. In the______ God created the heaven and the earth.
Answer: Beginning. Genesis 1:1
10. What is the missing letter? R----UTH
Answer: Ruth
11. There are ___ books in the bible.
Answer: 66
12. What is the missing letter? D___AVID
Answer: David
13. Where was Jesus born?
Answer: Bethlehem of Judea. Matthew 2:1
14. How many letters are there in Israel?
Answer: 6
15. Was Jesus born of the Virgin Mary? Yes or No
Answer: Yes. Matthew1:21
16. When was Jesus born?
Answer: Jesus was born in the days of Jerod the King.
17. Unscramble this word afhti
Answer: Faith
18. Did God rest on the seventh day? Yes or No
Answer: Yes, Genesis 2:1
19. Unscramble this word. Tazipte
Answer: Baptize
20. Should you honor your mother and father? Yes or No.
Answer: Yes, Exodus 20:12
21. Did Judas betray Jesus? Yes or No?
Answer: Yes, St. Matthew 26:45-50
22. Children____ obey your parents for this is right.
Answer: Obey. Ephesians 6:1
23. Adam was created when God formed him out of the dust of the____, breathed into his nostrils the breath of life, and he became a living soul.
Answer: ground. Genesis 2:7
24. What does it mean to be saved?
Answer: Being saved means to be rescued from sin. Romans 10:9
25. Who was in the belly of the fish three days and three nights?
Answer Jonah, Jonah 1:17.
About Evangelist D.M. Daniel
My name is Delores Marie Daniel. I am visually imparied. I have two parents,
Mr. and Pastor Doris Daniel, Jr. I have two brothers, Michael R. Daniel, Sr.
and James A. Danel the II.
I was born Nov. 2, 1955, Chicago, IL. I lived with my grandparents until 8 years old
I received a high school diploma. Plus, a Clerical Skills Training certificate
from Chicago Lighthouse for the Blind. I am certified through Wormen's
Self Employment Project. I am CEO of Educational Community Services,
consistig of: musical training, academics, and counseling. My goal is to obtain
credit as a music producer.
I received Jesus Christ as my personal saviour and the baptism
of the Holy Ghost at the age of 17. I was called to the ministry in my 20's.
My ministry presently consists of musical and educational programs.
I can truly say, I thank Go for what He has given me.
STORIES & POETRY
THE CIVIL RIGHTS STORY
BY
JARVELL MORRIS
Corp Leader Ages: 12-16
There once was a man name Nelson Mandela. He fought for his government. The whites were going to take over in South Africa. Nelson wanted to live in peace. The white people didn't like him so they had six white policemen to burst into his house in South Africa and handcuffed him.
His wife and two daughters were left and they took him to a cell. There were 40 men like Nelson in the cell with no food, no place to sit. The toilet was a hole in the floor. The guards would bring one of the men from outside each day.
One of the days Nelson had an idea. When they bring in another man from outside we will run out. And that is what they did. The policemen said go back in. Nelson said no unless we can get some food and a place to sit. The policemen said sit on the floor. Nelson said no. The policemen gave them a bowl of cold corn no spoons.
After 40 years they let them go. He did get to live in peace. He did get to see his wife and two daughters and let his people see freedom and that's the story of Nelson Mandela.
THE END

JARVELL BENJAMIN MORRIS Corp Leader
Ages 12-16 will send their writing
submissions to
*********************************************************************************************
SAVE YOU BY Arthur Wiggins II
She looks in the sky, not for a bird or a plane.....
but just assurance to know she's not insane...
Maybe she looks up to get away from pain..
Maybe a little comfort or stress of her brain..
What soes she want, this lovely Lois Lane?
Why does she look up, knowing that its going to be the same;
That same gray cloud who continues to stick around,
Who's always there to see her frown,
To see around...who's always there to see her frown,
To see her happiness drown,
By a lake of tears and rain he sends down...
So now its like waking up from a dream;
No evidence of what she seen, you see life is pretty mean,
Thinking of all the things, that she's been thru;
Makes hope seem so untrue,
Maybe she looks up because its an escape from all of you,
A way to get away, she was the wife of dismay..
So her life was on delay; but for once it seemed okay;
Euphoria enveloped the cloud of gray,
She seen the sun shine brighter than any other day;
"The sun is going to help you". may be a weird thing to say,
It's crazy cuz it work in this real mysterious way,
It picked you to shine on and reveal that God given smile...
Which makes you seem as innocent as a child,
So is it worth it is it worth while, Is what she saw greater that the Nile,
Bigger than the Grand... more reforming than sand...
Is it actually the escape that her great story calls for...
Or is it some trickery that she usually falls for?
It couldn't be... This time it seems different it actuallly can speak...
And not with deceit... but meek, and with a slight hint of relief...
She said, "I am in distress and don't know what to do..." ..
And it said so simply "I'm here to save you"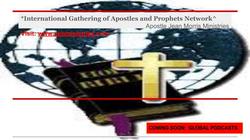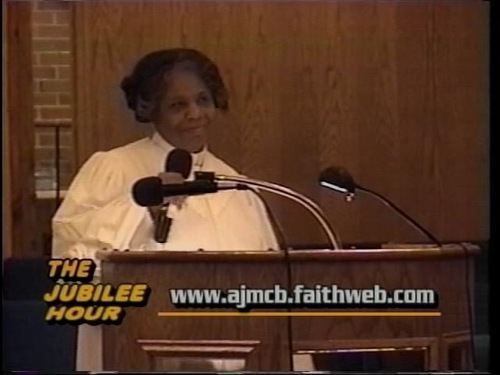 JARVELL AND GLYNN MORRIS, Young Greats in Chicago
Ages 5 - 11 will send
their writings to
BLACK HISTORY
What They Did
By Glynn Morris


Some people don't know about Martin Luther King,
Fred Shuttlesworth or Nelson Mandela well I do. Dr.
King was a man who helped the slavery. He was killed by
James Earl Ray a man of jealousy and hatred. Dr. King
taught about what's right and what's not. King was
killed on a hotel balcony in Memphis Tennessee on
March 1968.
Minister Fred was a preacher of God in
Birmingham, Alabama. On Christmas night a bomb
was thrown in his house and destroyed it but he didn't
give up,. One day he was beaten and his wife was stabbed.
He said they cant kill hope, he kept going on and on.
********************************************************
FROM VICTORY-PLUS GARY, INDIANA
WHY GOD SHOULD CHOOSE ME.
God should choose me because I chose Him. If we choose
Him, He will have something for me to do. He will not
leave us with nothing to do. Bro. Jarvell Morris
________________________________________________
i KNOW HOW TO MAKE PEOPLE LISTEN TO WHAT YOU
HAVE TO SAY. I CAN WORK WITH CHILDREN AND TEACH THEM
ABOUT YOU. I LET PEOPLE TALK AND LISTEN TO
WHAT I HAVE TO SAY. GLYNN MORRIS
________________________________________________
I AM A GOOD HELPER.
I AM A GOOD COOK.
I MAKE PEOPLE HAPPY. DAVID SMITH
________________________________________________
I AM SMART.
I HAVE INTELLIGENCE.
I AM ADORABLE.
I AM KIND TO OTHER PEOPLE IN SCHOOL
AND I DON'T TALK BACK TO MY TEACHER.
I FOCUS ON MY WORK OR I WILL GET
IN TROUBLE WITH MY AUNT. RENNE H.
_______________________________________
I NEED HELP WITH SOME PROBLEMS.
MISS P. H.
Apostle Jean Morris, Temporary Contact person
Send to temporary email address: